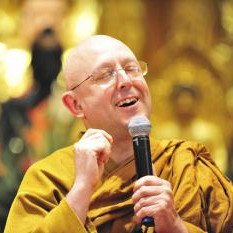 This recording of Ajahn Brahm has three parts: a guided meditation, followed by a Dhamma talk entitled 'Words That Heal, Words That Harm' and then finishes with a questions and answers session. Recorded at Rudolph Steiner House on Sunday 27th October 2019.
This event was part of Ajahn Brahm's 2019 UK Tour in support of Anukampa Bhikkhuni Project, of which Ajahn is Spiritual Adviser. Donations towards Anukampa's aim to develop a nuns' monastery in England are extremely welcome. Please visit https://anukampaproject.org/donate/
If you're having trouble hearing, please wear headphones or earphones.
Teaching retrieved from https://www.youtube.com/watch?v=o4wRI13iJeA (YouTube Channel: Anukampa Bhikkhuni Project)
Please support the BSWA in making teachings available for free online via Patreon.
To find and download more precious Dhamma teachings, visit the BSWA teachings page: https://bswa.org/teachings/, choose the teaching you want and click on the audio to open it up on Podbean.