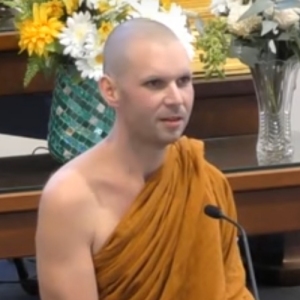 This was Venerable Kassapa's first visit as a teacher to The Armadale Meditation Group and we hope to see more of him in the future. Venerable commenced his instruction by explaining why he meditates. Venerable used his own life experiences to highlight the benefits of meditating whilst asking us to have Positive Actions In Our Day. Whilst Venerable is referring to the Noble Eightfold Path, he used his own experience in lay life to demonstrate how right action and right speech actually work.
Venerable lead the group in a longer than usual meditation beginning with a body sweep. Towards the middle Venerable moved us gently towards a breath meditation. An easy meditation well suited to beginners and experienced meditators alike.
After the meditation Venerable continued his talk on positive actions and the benefits before opening to questions from the group.
Please support the BSWA in making teachings available for free online via Patreon.
To find and download more Armadale Meditation Group Teachings, visit the BSWA teachings page, choose the AMG teaching you want, then type the title into the Podcast search box.  Teachings are available for downloading from the BSWA website, the BSWA Youtube Channel, the BSWA Podcast, and Deeper Dhamma Podcast.