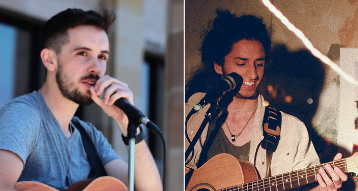 Ru aka Zal Kanga-Parabia and Kobi Arthur Morrison offer a beautiful concert for the Buddhist Society of WA.
Ru radiates a nostalgic and heartfelt tone that is rare to find in today's fast paced, loud, moving world. Feeling their foremost intimate credence, with an emphasis on storytelling and dynamic build ups, Ru nurtures a connection through song.
Kobi Arthur Morrison wo leads reconciliation choir groupings such as Madjitil Moorna, Koondarm and Walyalup Kannajil.
Together through song Ru and Kobi Arthur Morrison offer a gentle sense of healing and connection to self and each other.
Teachings are available for downloading from the BSWA website, the BSWA Youtube Channel, the BSWA Podcast, and Deeper Dhamma Podcast.
Please support the BSWA in making teachings available for free online via Patreon.