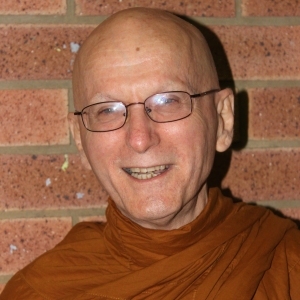 A Dhamma talk given at the Buddhist Society of Victoria (BSV) by Ajahn Nissarano. Date given believed to be around December 2019 to February 2020. Please visit the BSV Podcast Channel and BSV YouTube Channel
Ajahn Nissarano talks about the Buddha's thinking management plan. Ajahn explains how thinking can play a role in increasing or decreasing wholesome states of our mind. Thinking is an approximation of reality. Ajahn also talks about the two kinds of thought according to the Buddha, i.e. sensual, malicious and cruel thoughts to one class, and renunciation, goodwill and harmlessness to another class. By using wise attention to cultivate the wholesome states of mind, we will avoid/let go of negative states of mind. By accepting or letting thinking be, rather than getting caught up in it or rejecting it, thinking can tend to lose its energy and reduce by itself. Ajahn Nissarano then tells Ajahn Brahm's story about thinking. Finally, there is a quick Q&A session.
Please support the BSWA in making teachings available for free online via Patreon.
To find and download more precious Dhamma teachings, visit the BSWA teachings page: https://bswa.org/teachings/, choose the teaching you want and click on the audio to open it up on Podbean.
Teaching retrieved from https://www.podbean.com/site/EpisodeDownload/PBD2C932RWFXB