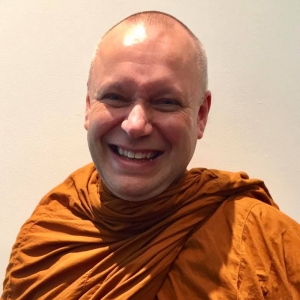 Ajahn Brahmali, barely off the plane from Singapore and almost straight to us at AMG. Ajahn began by reinforcing those simple to follow but often forgotten instructions we should all follow when meditating. Ajahn doesn't just give us the instructions, Ajahn includes an explanation that we all can follow and easily implement.
Ajahn then guided us in our meditation. This meditation is approximately 40 minutes and easily done by beginners and experienced meditators.
Following meditation Ajahn talked to us about Vesak Day. Ajahn related to us some of the main aspects of the Buddha's life. Buddha's birth, enlightenment and eventual death. More importantly he talked to us about the often overlooked aspect of the Buddha, that he comes across from the sutta as being a very ordinary human. Ajahn then points out that what the Buddha had, that made him the Buddha, was insight into how our minds work.
Please support the BSWA in making teachings available for free online via Patreon.
To find and download more Armadale Meditation Group Teachings, visit the BSWA teachings page, choose the AMG teaching you want, then type the title into the Podcast search box.