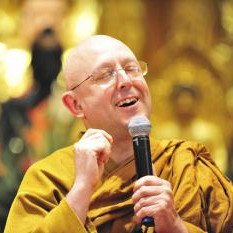 From February 15th to 24th 2015, Ajahn Brahm offered this San Francisco Bay Area speaking tour in support of the Dhammadharini's sangha new bhikkhuni monastery. Founded by Ayya Tathaaloka, the Dhammadharini women's monastic community was the first bhikkhuni sangha of the Theravadan forest tradition in North America, and one of the few places in the West that women can become fully ordained Buddhist monastics.
Ajahn's talk begins from around 15 minutes. Ajahn talked about the essence of Buddhism ("The essence of Buddhism is suffering, and suffering is asking from this world what it cannot give you.") and giving 100% to everything you've got to the job at hand ("If you're going to sweep, give it everything you've got".)
Teaching retrieved from https://www.youtube.com/watch?v=H5CB-T8PS0I (YouTube Channel: Ajahn Brahm's Benefit Talks for Dhammadharini)
Please support the BSWA in making teachings available for free online via Patreon.