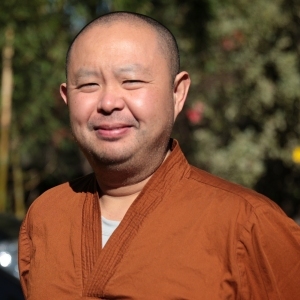 Recorded at Dhammayanaram Monastery, home of the Cambodian Buddhist Society of WA November 2019.
Ajahn Santutthi started our regular Monday night meditation with a brief talk on breath meditation and our habit of "monkey mind". We start by looking at our breath and often find we are altering it just by looking at it. Or, we start by gently, softly watching out breathing then find we are off with the fairies, the days events, tomorrows shopping etc. It just takes practice. Ajahn prefers not to use such terms as focus, because it suggests we concentrate harder than needed. New meditators often get a headache when starting out by trying to hard. Ajahn reminds us that it's not a task or chore. Just relax and give yourself time through practice to get there.
Ajahn then lead the group in a 30 minute meditation asking us to remind ourselves regularly, suggesting 5 minutes or so, to return to the breathing. Over time it will occur naturally with not having to focus or concentrate. This meditation is well suited to beginners and experienced alike.
After meditation Ajahn opened to Q&A.
Please support Wat Dhammayanaram Cambodian Society of WA (CBSWA) in making teachings available for free online here.
Teachings are available for downloading from the CBSWA website.
Visit the BSWA Stocker Road Project.
Please support the BSWA in making teachings available for free online via Patreon.