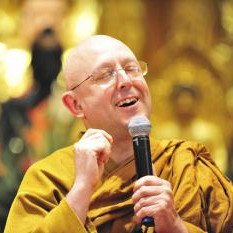 From February 15th to 24th 2015, Ajahn Brahm offered a San Francisco Bay Area speaking tour in support of the Dhammadharini's sangha new bhikkhuni monastery. Founded by Ayya Tathaaloka, the Dhammadharini women's monastic community was the first bhikkhuni sangha of the Theravadan forest tradition in North America, and one of the few places in the West that women can become fully ordained Buddhist monastics.
Ajahn Brahm is one of the Venerable's speaking on Mindfulness. Ajahn Brahm starts by reading from his book "Don't Worry, Be Grumpy" and then engages in a discussion about mindfulness.
Teaching retrieved from https://www.youtube.com/watch?v=CaTK78FfG7k (YouTube Channel: Ajahn Brahm's Benefit Talks for Dhammadharini)
Please support the BSWA in making teachings available for free online via Patreon.
To find and download more Dhamma Talks on Podcast, visit the BSWA teachings page: https://bswa.org/teachings/, choose the talk you want and then type the title into the Podcast search box.