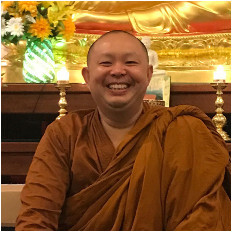 This recordings begins with a little bit of chanting, then an introduction to Ajahn Santutthi. Ajahn then guides a short meditation and gives a Dhamma talk.
All the way from Perth, we are honoured to present Ajahn Santutthi. Brick by humble brick, with unwavering effort to uphold the Dhamma, Ajahn builds his monastery for the benefit of the Dhamma. Today we go inside the mind of a great man, to find out how he stays equanimous amidst the turmoil of a fevered world and what Ajahn's attitude is, to staying strong in the face of the oppressive external expectations.
Please support the BSWA in making teachings available for free online via Patreon.
To find and download more precious Dhamma teachings, visit the BSWA teachings page: https://bswa.org/teachings/, choose the teaching you want and click on the audio to open it up on Podbean.
Teaching retrieved from https://www.youtube.com/watch?v=aX8I2QbUOYQ (Buddhist Fellowship)