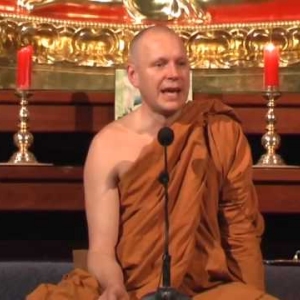 Ajahn Brahmali, as one of our most senior and respected monks, doesn't often get the time to visit us at AMG so when he does, we have a full house as he is an excellent teacher.
Ajahn began the night with a talk on the obstacles and problems most often associated with meditation for beginners. Tiredness and the thinking mind, these are the two main issues we deal with when we first learn to meditate. Actually, even experienced meditators experience these obstacles. Ajahn continued to explain how to overcome them.
Ajahn then guided us through a 30 minute meditation followed by opening to questions and offering sound answers and explanations. One of the questions related to death contemplation which in western society is not so much a taboo subject, but one most of us don't want to hear about, let alone contemplate. Ajahn showed us that this was a way of putting down our thoughts of the future when meditating.
This meditation is well suited to those wishing to get a start in meditation.
Please support the BSWA in making teachings available for free online via Patreon.
To find and download more Armadale Meditation Group Teachings, visit the BSWA teachings page, choose the AMG teaching you want, then type the title into the Podcast search box.