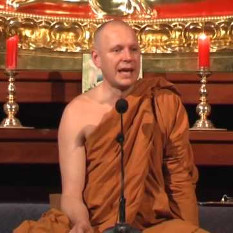 Ajahn Brahmali gave a Dhamma Talk and Questions and Answers session on "How to Overcome the Five Hindrances" at Sheffield Hallam University on the 8th of July 2018. The Five Hindrances are: 'desire for sensing', 'aversion or ill-will', 'lethargy laziness or sloth & torpor', 'restlessness, regret & worry' and 'doubt & uncertainty'. 
Ajahn Brahmali supports Anukampa Bhikkhuni Project, of which Ajahn Brahmavamso is Spiritual Adviser. Donations towards Anukampa's aim to develop a nuns' monastery in England are extremely welcome. Please visit: https://anukampaproject.org/donate/
Teaching retrieved from https://www.youtube.com/watch?v=-tKnVClbh0w (YouTube Channel: Anukampa Bhikkhuni Project)
Please support the BSWA in making teachings available for free online via Patreon.
To find and download more Dhamma Talks on Podcast, visit the BSWA teachings page: https://bswa.org/teachings/, choose the talk you want and then type the title into the Podcast search box.