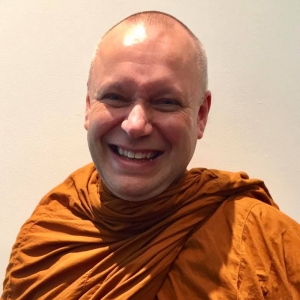 We apologise for the quality of this audio. Guided meditation & Dhamma talk by Ajahn Brahmali, given via Zoom (online video) for Anukampa Bhikkhuni Project in England, UK.
Ajahn Brahmali offers some teachings, exploring the Buddhist attitude towards dying, death and rebirth and shares some personal tips on how he has dealt with loss. Ajahn begins with a guided meditation, offering us an opportunity to experience the peace and letting go that leaving this body, (whether through deep meditation, or at the end of this life), can bring.
We invite you to support Anukampa Bhikkhuni Project by making a donation at www.anukampaproject.org/donate (Anukampa's aim to develop a nuns' monastery in England and to continue to distribute the Buddha's teachings)
Please support the BSWA in making teachings available for free online via Patreon.
To find and download more precious Dhamma teachings, visit the BSWA teachings page: https://bswa.org/teachings/, choose the teaching you want and click on the audio to open it up on Podbean.
Teaching retrieved from: https://www.youtube.com/watch?v=CMjfndvhCf0