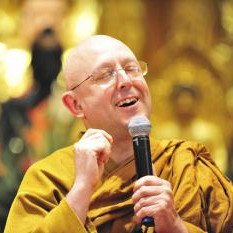 From 15th to 24th February 2015, Ajahn Brahm offered this San Francisco Bay Area a tour in support of the Dhammadharini's Sangha's new bhikkhuni monastery. Founded by Ayya Tathaaloka, the Dhammadharini women's monastic community is the first bhikkhuni Sangha of the Theravadan forest tradition in North America and one of the few places in the West where women can become fully ordained Buddhist monastics.
Part 3: This talk is a continuation of Part 2's questions and answers session. Ajahn answers questions about various topics, such as the use of humour, how to speak properly, how to use one's two ears ("one to go in, one to go out"), etc. The session ends with a 30 minute guided meditation (from 1:03:00), before ending with Ajahn answering more questions. (Note: recording ends abruptly)
Please consider donating to Dhammadharini's campaign: https://www.indiegogo.com/projects/support-feminine-wisdom-in-buddhism#/
Teaching retrieved from https://www.youtube.com/results?search_query=ajahn+brahm+at+spirit+rock (YouTube Channel: Ajahn Brahm's Benefit Talks for Dhammadharini)
Please support the BSWA in making teachings available for free online via Patreon.